Red Flags: How To Spot A Fraud Text Message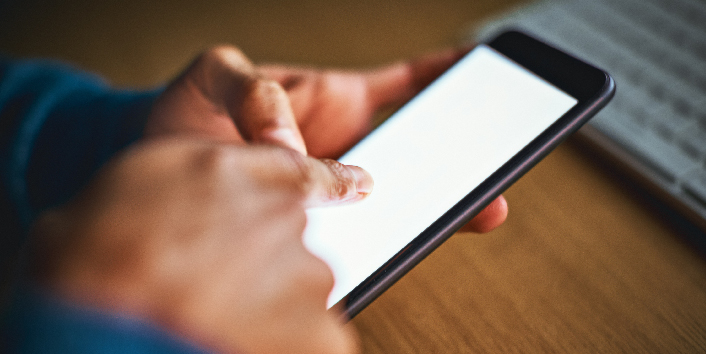 Scammers will never stop texting you trying to gain access to your bank accounts. U.S consumers lost more than $300 million to fraudulent texts in 2022. Since most people respond to texts instantly, it's easy to get fooled. Here are four red flags to help identify if a text message is fraud.
"An unfamiliar charge has been processed on your card."
Scammers will notify you of a fake charge being processed or that suspicious activity has been detected on your account. DO NOT respond if the charge is unfamiliar, or you suspect it is fake. The following is a text message that was sent to a Cinfed member: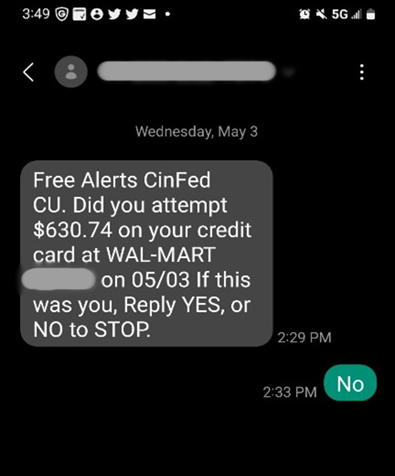 Review your recent transactions and speak with anyone who may have access to your account. If the charge remains unfamiliar, contact your financial institution as a second method of verification.
Look for spelling or grammatical mistakes.
Some scammers may not be fluent in the English language, leading to grammatical mistakes in the message. This could be as little as a misspelled word, incorrect punctuation or the message just sounding off when reading it out loud. Most legitimate messages are written by professionals and are free of any mistakes. Consider reading it more than once, and if you notice any mistakes, you're probably dealing with a scammer.
Suspicious links are included.
Whether you're being asked to update information or told a package was unable to be delivered, be cautious when links are included from an unknown phone number. Ask yourself if you signed up for text messages from a company or if you're expecting a package before clicking the link without thinking. Fake links could download viruses to your device or take you to a fake website to get your personal information. If you're expecting a delivery, search for the company's website online and call a representative for assistance.
The message has a false sense of urgency.
Scammers could contact you claiming you have won a prize that requires immediate action. If it seems too good to be true, it is! DO NOT be lured by "easy money" schemes that involve sending or receiving money or packages. If you recently entered a drawing, contact the organizers to confirm if a text message or another form of communication was sent.
Scammers are coming up with more and more ways to get your information, including text messages that address you personally. Your name, financial institution, and other personal information may be out there for all to see. Be alert for these warning signs.
If you have any questions about a message from Cinfed, call our Contact Center (513-333-3800) or your nearest branch.