Join Our Family And Love Your Career.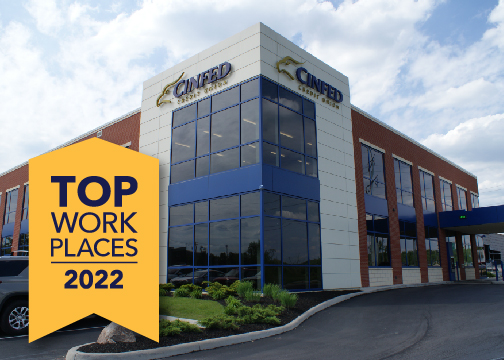 Our Cinfed family is dedicated to providing financial success to all of our members in a family-friendly work environment.
Cinfed Credit Union is an equal opportunity employer, owned and operated by our members…for our members. We are a full service, member focused, not-for-profit financial institution.
Our mission is to be the first choice for financial success, because we care deeply about our members and our employees. We believe that what we do every day has a real impact on their lives, their families and the community's financial future.
VIEW OUR CURRENT JOB OPENINGS

The benefits of joining the Cinfed family.
Along with competitive compensation, we're here to support you with an exceptional benefits package that includes:
Health Insurance
Voluntary Life, Vision, and Dental Insurance
Short & Long Term Disability Insurance
Tuition Reimbursement Program
Discounted Employee Loan Rates
Paid Time Off
11 Paid Holidays Per Year
Gym Membership Reimbursement
Develop your career here.
One of our top priorities is helping our people succeed. We always prioritize promoting from within; in fact, 33% of our employees received a promotion in 2021! Whether career development for you means mastering your current skillset or transitioning to a new department, we're here to support your growth.
A winning workplace that gives back.
As a community-chartered credit union, our roots in our community run deep. We serve as a corporate partner with Habitat for Humanity and a primary sponsor of the Ruth Lyons Children's Fund. We support financial education for students through educational programs and hands-on "deposit days" in local schools. Cinfed's Make a Difference Committee was started by employees and raises money throughout the year to assist local families during the holidays and with financial hardships. Over the past year we assisted 20 families with financial needs and sponsored Christmas gifts for 8 families.
A culture that leads to success.
Our members are at the heart of everything we do and as an employee, you're a member too! We believe it's important to work with a team who feels like family and Cinfed is full of people who truly care for one another. Our company fundamentals guide us to be the best version of ourselves for our members, our team, and our own personal development. We prioritize taking time to celebrate big accomplishments as well as small ways in which someone did something extra to make your day easier. We're proud to have a culture and workplace worthy of being named "Top Workplace in Cincinnati" for six years running.