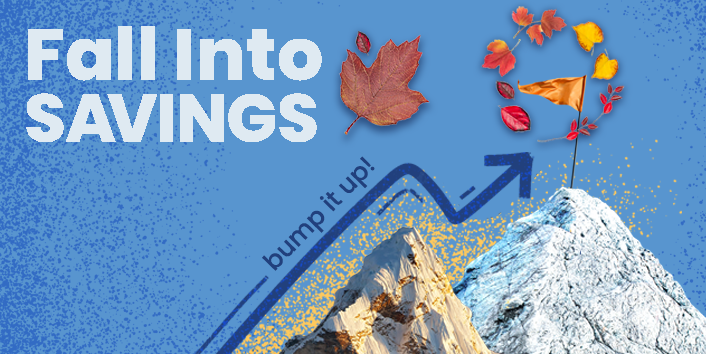 Earn More with a Bump Up Certificate! 4.05% APY* /18 months
Get more for your money with Cinfed's Bump Up Certificate!
Start at 4.05% APY* for 18 months with a chance to bump up the rate along the way!
Start saving with Cinfed today:
This limited time offer provides the flexibility to increase the rate to the current 18-month rate one time during the term.
Additional details:
Minimum $500 deposit to open the account; no maximum
50% new money to the credit union required
You get to bump the rate once at a time of your choosing within the 18-month term
Unlimited number of certificates can be obtained, as long as 50% is new money in each
After 18 months, the certificate will automatically roll over to a 12 month certificate at the current rate at that time.
Take advantage of this great offer and Fall Into Savings with Cinfed!
Visit your nearest branch, call, or apply online to get started.
*APY: Annual Percentage Yield. $500 deposit required to open account; must be at least 50% new money (money not currently on deposit with Cinfed). Standard restrictions and penalties for early withdrawal apply. Rates subject to change after account is opened. Certificate owner must initiate the bump request; request can be submitted in person at a branch location, by email, mail, or digital banking message. One bump per certificate permitted; new dividend rate and APY will be in effect for the remainder of the term. After 18-month term expires, account will auto-renew for 12 months at the rate in effect at time of renewal.
Federally insured by NCUA