Scammers will never stop trying to steal your personal information through phone calls, emails, or texts. Take the necessary steps to protect yourself, your identity, and others against fraudsters before it's too late.
Preventing Financial Abuse of the Elderly:
Unfortunately, elderly people are often the targets of fraudsters. Almost any older individual can be vulnerable to financial abuse: that is, someone taking advantage of their relationship to steal money, property, or belongings. If you have elderly parents, relatives, or people you care about, it's important to be aware of the issue. Here are a few ways you can protect them from financial hardship:
Remind them to keep personal information private (social security number, account information, passwords) and secure checkbooks, account statements, and other sensitive information in a private but accessible place.
Maintain a relationship with their banker and others who handle their finances.
Check references and credentials of any potential caretakers.
Have a trustworthy person act as an agent in any estate-planning matters.
If the senior you care about seems susceptible to financial abuse, take further proactive steps. You can work with them to complete a Trusted Contact form to protect their Cinfed account (Cinfed Credit Union | Resources | Trusted Contact) or talk with them about establishing a durable power of attorney.. This helps ensure that their finances are managed properly if they are not able to do so themselves.
Preventing fraud through email, phone calls and texts:
Be cautious when anyone asks for personal information over the phone or through email. Scammers will notify you claiming suspicious activity has been detected on your account or a fake charge has been processed. For example, this is a text message sent to a Cinfed member: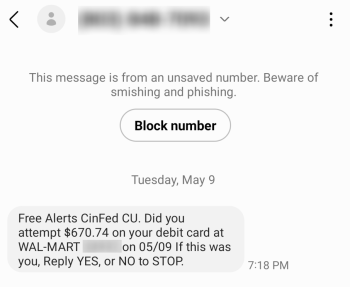 Before clicking on a link or calling a phone number like the one shown above, review your recent transactions or speak with anyone who has access to your account. If the charge or claim remains unfamiliar, contact your financial institution as a second method of verification. Direct deposit and payment services could bring more activity to your account, and fraudsters are finding ways to target those methods, including your employer. Remote jobs have challenged communication between employees and their supervisors, leading to scammers impersonating a boss or co-worker to trick you into financial transfers. And advanced technology has made it easier than ever for them to do so.
Protect yourself from becoming a victim by following Cinfed's five fraud prevention fundamentals.
Cinfed will never contact you asking for personal information such as an account number, PIN, or social security number. Do not share it unless YOU initiate the communication.
Do not click on links in unexpected messages (texts, emails, and social media messages) that ask for personal information or account confirmation, especially if they try to create a false sense of urgency.
Beware of social media "friends" whom you have never met and have no other connection to you – yet ask for money or personal information. Do not be lured by "easy money" schemes that involve sending or receiving money or packages. If it seems too good to be true, it is!
Set up alerts on your accounts to be notified of transactions. By knowing immediately about potentially fraudulent charges, you can take the preventive steps necessary.
Use Cinfed's resources to check the status of your account: the Cinfed Mobile App or online with Cinfed Digital Banking.
If you have any questions about a message you received from Cinfed, call our Contact Center (513-333-3800) or your nearest branch.